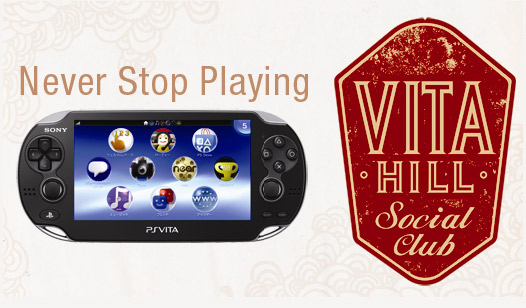 Sit down, relax, and immerse yourself in the PlayStation®Vita experience at the Vita Hill Social Club. At Vita Hill Social Club, you will be amongst first to experience PlayStation® Vita and many of its features. You will have the opportunity to play tons of PS Vita games, including SoundShapes, UNCHARTED: Golden Abyss, LittleBigPlanet, Little Deviants, WipEout 2048, ModNation Racers, Reality Fighters, and Hot Shots Golf!
All you have to bring are your hands and the desire to have fun, and we'll provide the rest.
Join us for the grand opening of the Boston PS Vita meetup on Wednesday, 1/18! Attendees will feast on free food and beverages, have unfettered access to a dozen PS Vita titles, and enter for chances to win a PS Vita system before it hits store shelves on February 22nd. Not bad, eh? All meetups start at 5:30pm local time, ending at 8:30pm.
We even whipped up a limited-edition PS Vita T-shirt for the occasion, which will go to the first 100 people to show up to each meetup. So don't be late!
Hope to see you next week! Oh, and bring friends!
579 Massachusetts Ave, Cambridge
Your host: Sid Shuman from PlayStation.Blog
5:30pm to 8:30pm